The Open Institute is happy to release Kobole, an initiative borne out of a collaboration with the International Budget Partnership (Kenya), the National Taxpayers Association, Development Initiatives and Institute of Public Finance (Kenya) called in an initiative dubbed #CollectiveKe.
Kobole is a tool for Kenyans to calculate their total tax contribution – both their income tax and their lifestyle taxes (the taxes they pay while going through everyday spending). It was developed in part to commemorate October, which in Kenya marks the Taxpayers Month. In addition, it was in recognition that many Kenyans only consider Income Tax as the taxes their pay and rarely review the amount of taxes they pay as they go through life, spending money on shopping, fuel etc.
"What's interesting is that many Kenyans are not even aware of their Income Taxes as these are deducted even before they receive their salaries," said our founder, Al Kags. "What we are hoping is that Kenyans when Kenyans realise they are paying more than a third of their income in taxes – for some up to 45% – they will care enough to start paying attention to Kenya's money management and improve their participation and engagement with government to advocate for improved practices."
The Head of Development Initiative's Africa Office, Angela Kageni was one of the earlier users of the tool for her own income and had this to say, "I pay more than a third of my income in taxes and I am appalled, especially when I start to think that I also have to pay for many services that my taxes should pay – I pay for private health care, I pay for private education, I pay for water to be delivered to my house and more. What's sad is that Kenya's poor are even more burdened by these taxes, because unlike the middle class they have a more difficult time adjusting to the increased demands from their meagre incomes."
As Kenya's economy has seen harder times, the government has responding by increasing taxes on various every-day commodities, including fuel, mobile phone air time, MPESA transaction fees, bank transfer taxes and even Sacco deposit fees. As a result, Kenyans are having to reach deeper into their purses to maintain their standard of living. There are increasing reports of people moving to cheaper neighbourhoods and downscaling their expenditures as a means to surviving day to day.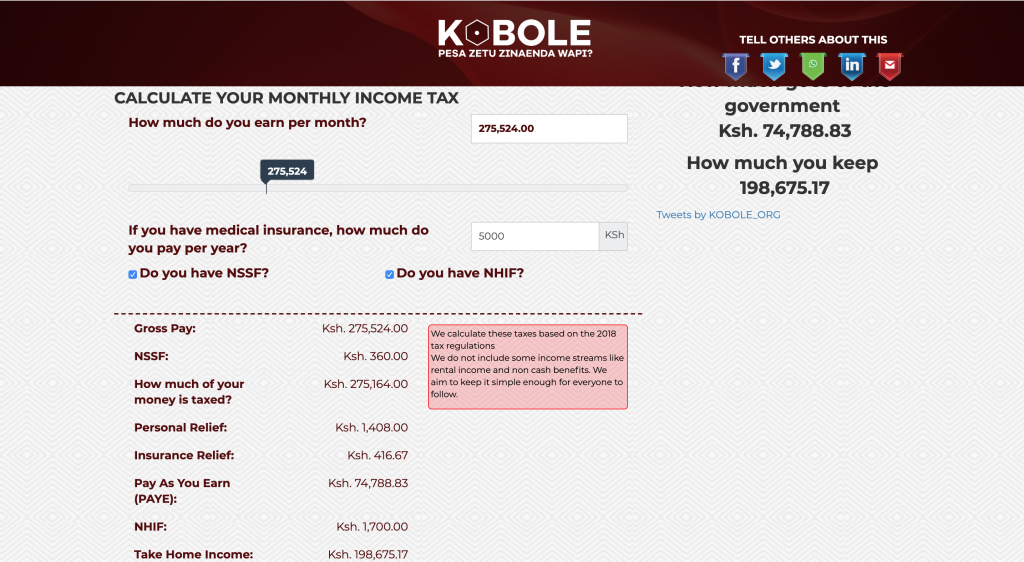 Kenyans have to participate in economic discourse based on the major stake they have in the economy, through their taxes and we hope that Kobole adds value to the discussion. Kobole has been built to enable completely anonymous use (there is no sign in) and no data is collected as people use it.