Nandi County is again in the spotlight, basking in the glory of its remarkable achievements. On September 6th, Nandi County received an impressive win for the 2023 Open Government Award in the Digital Technologies category for Africa and the Middle East. This award, warmly received by the Deputy Governor, Dr Yulita Mitei, clearly demonstrates their unwavering dedication to building a transparent and data-driven government.

Join us as we walk down memory lane in acknowledgement of the work, dedication, remarkable partnership with Open Institute, and commitment to ensuring that Nandi County citizens are not left behind.
From Left: Deputy Governor Dr. Yulita Cheruiyot and Al Kags, founder of the Open Institute, unveiling the newly signed MOU of Nandi County.
The Data Desk Process: Buy-In, Data Curation, Implementation and Launch
Nandi County's journey to data transparency followed a structured four-step process:
Buy-In
It all began from our interactions with Nandi's former Chief Officer in charge of Economic Planning, Mr. Felix Sambu, who was one of the successful data champions in our first cohort of the Data Leaders Fellowship Programme in 2021. Throughout the fellowship, Nandi's appetite for setting up better data systems was evident, demonstrating the need for counties to establish statistical units to handle policy research and statistics matters.

Following this fruitful engagement, the county leadership, led by Governor Stephen Sang, later recognised the importance of the Data Desk in improving decision-making. They strengthened their commitment to data transparency with the Open Institute by signing a Memorandum of Understanding (MOU) to establish a data desk officially launched in May 2022. Governor Stephen Sang emphasised the value of this data desk, which aimed to provide the public with access to budget data, project data, and sector-specific information.


From Left: OI's Benjamin Charagu, Governor Sang, Al Kags, Deputy Governor, Dr. Mitei and OI's John Mucheke.


Data Curation
We supported Nandi's technical team through workshops and training, curated data from various county departments, ensuring accuracy and relevance. This curation stage involved a collaborative process of identifying the different types of data from the various departments in areas such as health and education, revenue and expenditure, and agriculture, and addressing the data gaps to ensure the accuracy of each data point.


The Data Desk team working to identify available data that will be curated into the Data Desk


Implementation
With data from various departments ready for publishing, we supported the creation of the online portal as a centralized platform for accessing the county's data. On this platform, data from different sectors was visualized and made accessible to various stakeholders on Nandi's website.




Reviewing and verifying data for upload to the Nandi Data Desk.


Launch
The Data Desk was officially launched, providing a platform for transparency and accountability in county governance. Hosted at the County headquarters in Kapsabet, this event marked Nandi County as the second county in Kenya to establish a facility dedicated to collecting, curating, analyzing, and publishing relevant county data. The successful launch event, hosted by Deputy Governor Dr. Yulita Cheruiyot, marked a significant step toward fostering open government in Nandi County.


Deputy Governor Dr. Yulita Cheruiyot unveiled the Nandi County Data Desk.

The culmination of these efforts was the successful handover of the system to the county's technical team, who were now fully equipped to oversee the County Data Desk's operations.
Our Vision for the Future
Open Institute's journey with Nandi County does not stop here. We are dedicated to establishing strong data governance structures that will set them on the path to becoming World Class leaders in matters of data governance. This vision promises numerous advantages in the use of technology and tech-based private sector investment, particularly in agribusiness. The aim is to continually involve local community-based organizations, journalists, and other data sources to enhance transparency.

Congratulations, Nandi County!
From the humble beginnings of the County Data Desk launch in May 2022 to the pinnacle of receiving an OGP award in 2023, Nandi County's journey toward data transparency and open government practices is truly commendable. Their dedication to providing accurate and timely data for decision-making sets a positive example for other counties to follow. Open Institute is committed to supporting them and look forward to witnessing their continued success in promoting transparency, accountability, and citizen engagement through data.

Congratulations, Nandi County, on your well-deserved recognition and award!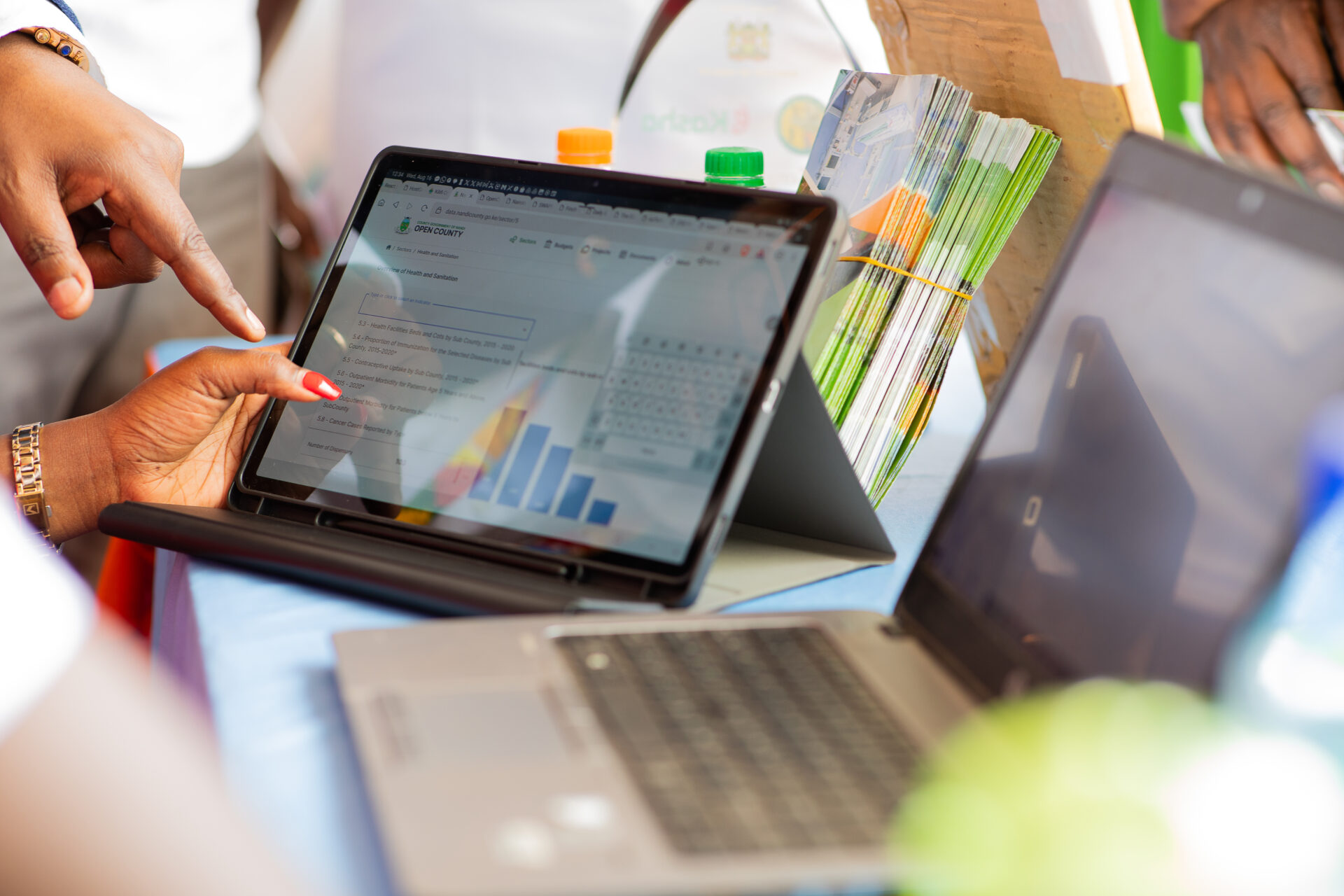 visit the nandi data desk