What does data transparency look like in the African context? This important conversation drove the discussions during the virtual webinars that the Open Institute convened across various African countries to commemorate the global celebration of the Open Data Day on the 6th of March 2021. This year's event was themed "Data for Equal Development", and we mobilized our partners across Africa to have each country hold an event concurrently on the day. Our colleagues across East, West and Southern Africa held discussions that centred around the need to promote the conversation on data governance in the COVID-19 context, a topic that is dear to our hearts and inspired our #RestoreDataRights movement that seeks to promote transparent, accountable and inclusive data governance in Africa.
The Kenya event began with Prof. Bitange Ndemo, who was at the forefront when Kenya began digitization of government data, as, like most African countries, Kenya had data in unusable formats. Emphasising the need for African countries to embrace the Fourth Industrial Revolution in order to breach both the digital divide and the economic divide, he quoted:
The panel discussion was moderated by Muchiri Nyaggah, Executive Director at LDRI, and featured key personalities including Kenya's first Data Protection Commissioner, Dr. Shikoh Gitau, an innovator passionate about utilizing digital tools, human rights champion Irungu Houghton and Mugambi Laibuta, Advocate and Data Governance expert.
Conversations around data use and openness, vaccine equity for vulnerable countries and the use of data storytelling to demystify and package data for action were some of the interesting topics that the panelists delved into.
Every single line of data represents a human life

Dr Shikoh Gitau, CEO, Qhala
Just across the border in Uganda we had a similar discourse that touched on the state of implementation of the Privacy and Data Protection Act, 2019 in Uganda and its relevance in ensuring openness and transparency of COVID-19 data in Uganda. Speaking on how equitable access to crucial COVID-19 data, treatments and vaccines are implemented in Uganda,  Mr. Kajirita from the Ministry of Health, spoke to data collection and its importance for decision making, while also acknowledging that the security of this data is paramount.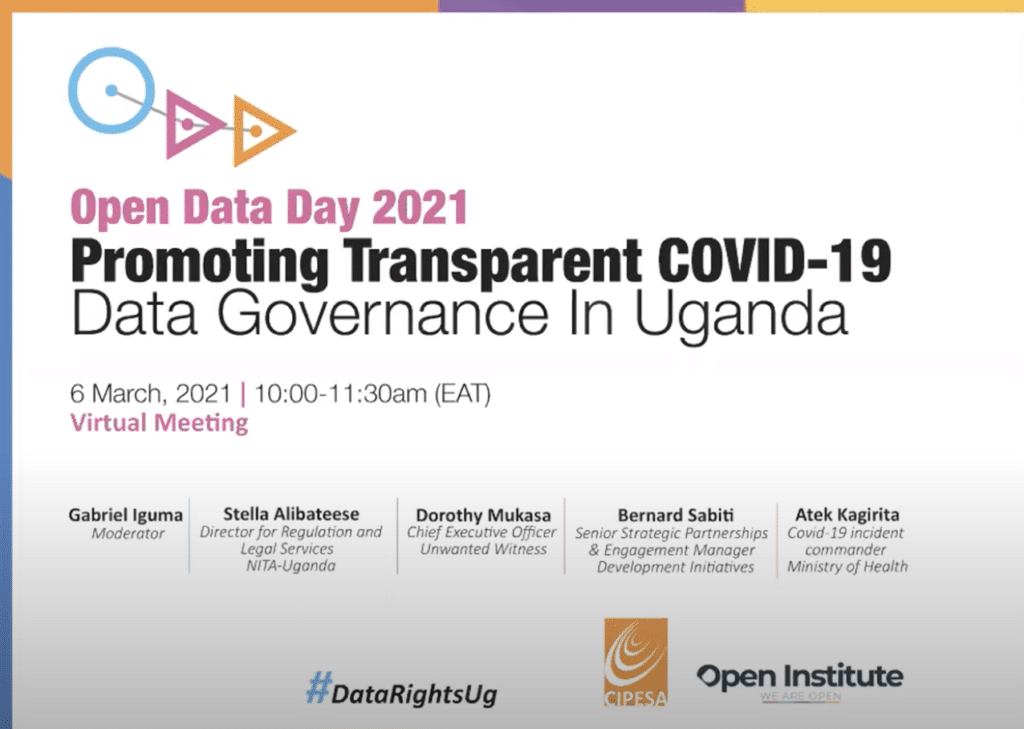 Security of information is important, as not all health information collected is [meant] for public consumption

Mr Kajirita, Ministry of Health, Uganda
An interesting topic that explored data, politics and COVID-19 had Bernard Sabiti acknowledge how data can be weaponized and commodified depending on different interests.
Data is a political tool

Bernard Sabiti, Development Initiatives
Of all the regions, the largest convening was from our #RestoreDataRights partners at Paradigm Initiative, who led conversations in their Southern and Francophone (Western) African regions on the topic of data transparency. From the conversations, what emerged was the need to distinguish public open data from private open data since only then can we govern our data correctly. In these times of COVID crisis in Africa, combating the threat and ensuring that citizens are receiving the right interventions involves strengthening transparency of open data to promote resilience and solutions to unique African problems.
It's important to have open data in order to build trust of citizens in governments in Africa and prevent misinformation

Jimmy Kainja, Digital Rights Advocate
Last but not least, the Ghana event tackled key questions on data transparency as it relates to COVID-19 data, defining the meaning of transparency, as ensuring that people know when data has been accessed, who has access and what data has been accessed. Discussions also touched on how as a continent, we need to invest much more in data frameworks and infrastructure as this also contributes to equitable distribution of COVID-19 therapies, including vaccines.
One of the next steps from this fruitful event will be to hold a larger continental conversation together with African partners to deepen the data rights conversation and better reflect and advocate for responsible data governance practices. There will also be publication of a Transparency Analysis study that looks at data transparency across different African countries, which is being developed in partnership with DataReady and will be published on https://restoredatarights.africa in the coming weeks.
More information about these events can be found on our Open Data Day website.
For media enquiries, contact events@openinstitute.com