In collaboration with Amnesty International Kenya, we are currently running the Data Governance programme with a purpose of guiding the operationalization of the Data Protection Act and ensuring that Kenyans benefit from the advantages of technology without compromising their fundamental rights. In line with this, the joint initiative also seeks to create awareness about the newly-constituted Office of the Data Protection Commissioner.
The Data Protection Act 2019 has defined data protection and has several provisions that govern its use; however, according to findings from an opinion poll carried out by Amnesty International Kenya, 54% of Kenyans are unaware of their right to privacy.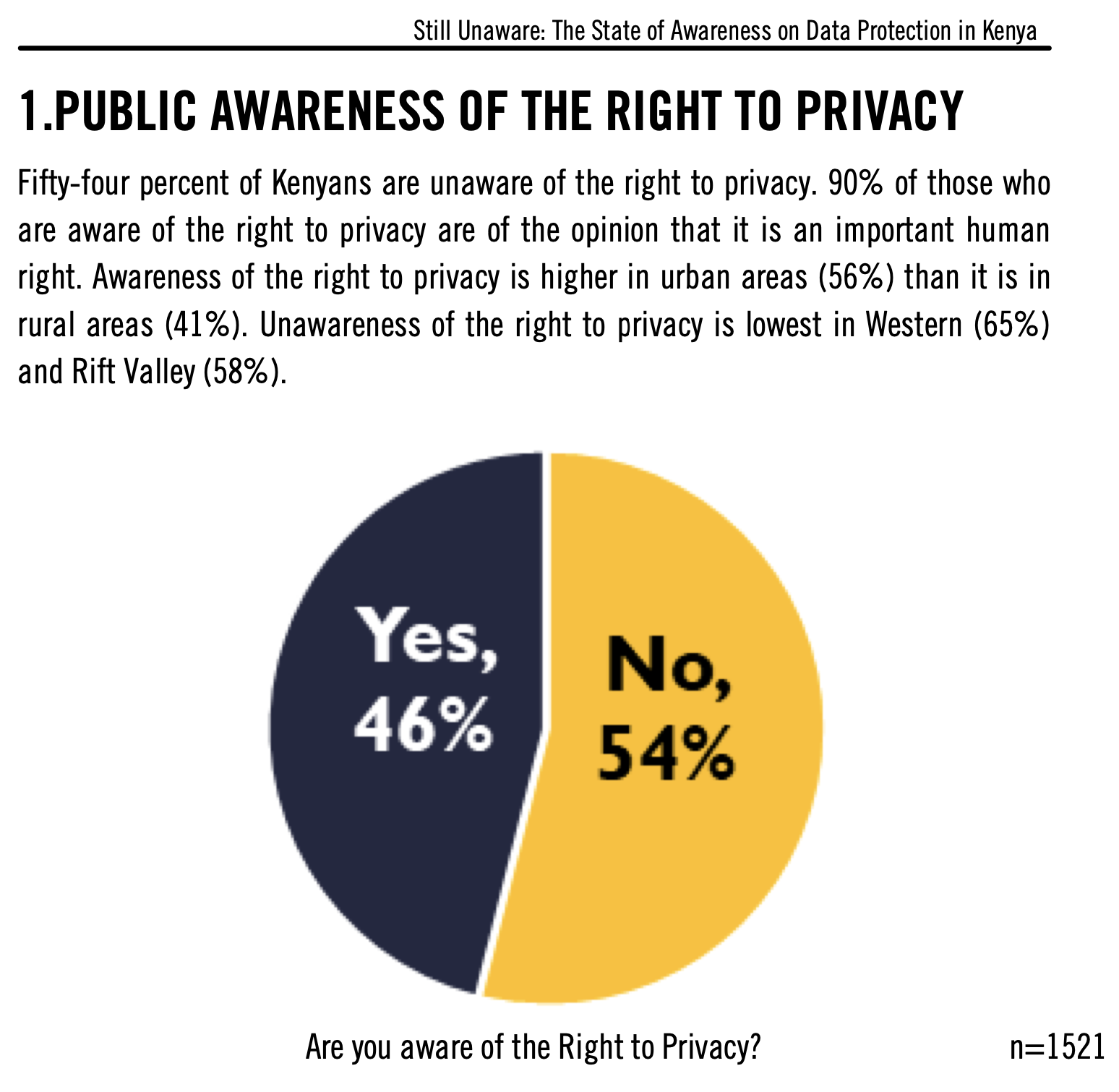 The activities under the project's objective of the operalization of the Data Protection Act prompted the need to create an awareness campaign aimed at building awareness of data protection among Kenyans, with the following objectives:
Strengthen the visibility of the Data Protection Act and its relevance to citizens' lives by creating awareness of its provisions
Creating awareness of the impact and ramifications of the act as well as people's rights and responsibilities as well as the recourse they could take if their data is misused
The campaign, dubbed #FichaUchi, aimed at raising awareness about data privacy and data protection while also bringing to the fore the existence of the Office of the Data Protection Commissioner. The hashtag was carefully chosen so that it is not only catchy but also impactful in the way in which most citizens, particularly the youth, could relate to their data both online and offline. #FichaUchi demystified the Data Protection concept by providing factual, age-appropriate information about Data Protection.
The nationwide campaign came days after a three-day public participation forum on the proposed Data Protection Regulations.
Kenya has a population of 47.5 million citizens with 35.7 million of them (75.1%) below 35 years. Data from Q1 ICT sector statistics report for FY 2020/2021 shows that there are more than 59.84 million mobile subscriptions in Kenya. Data/ Internet Total Subscriptions are estimated at 43 million. Mobile money agents are over 245,000 with money transfers valued in trillions.
All this is personal data in the hands of data controllers and data processors. In the same period, more than 35 million cyber threats were detected.
Campaign launch

The campaign was launched with a press statement that was released on major Kenyan media houses, and the first collateral was shared on Facebook, Twitter, Instagram and LinkedIn. Starting off strong, the message was: "your data is personal information, and, as such, it must be protected". Ficha Uchi literally means "hide your nudity" and with this premise, the launch of the social media campaign saw impactful graphics and eye-catching messages flood social media: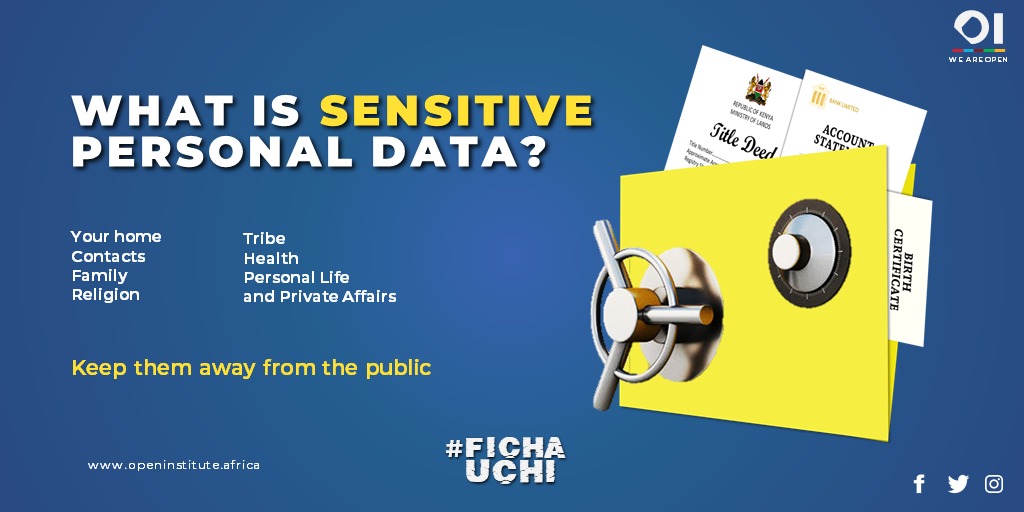 The response was positive, and over the six weeks, we saw great traction particularly on WhatsApp, Twitter and Facebook, with a reach of over 500,000 Kenyan youth, showing that the targeted audience was able to engage with the messaging.Through the campaign, we realised that many young people did not previously understand that their actions online had any repercussions.
I didn't know [this], I usually forget to put off my Bluetooth.

WhatsApp user
The only privacy we've got left is in the confines of our thoughts

WhatsApp user
The fact is many Kenyans relate data to the browsing data bundles and they don't necessarily know about their other data and that's why they rarely speak about it

Facebook User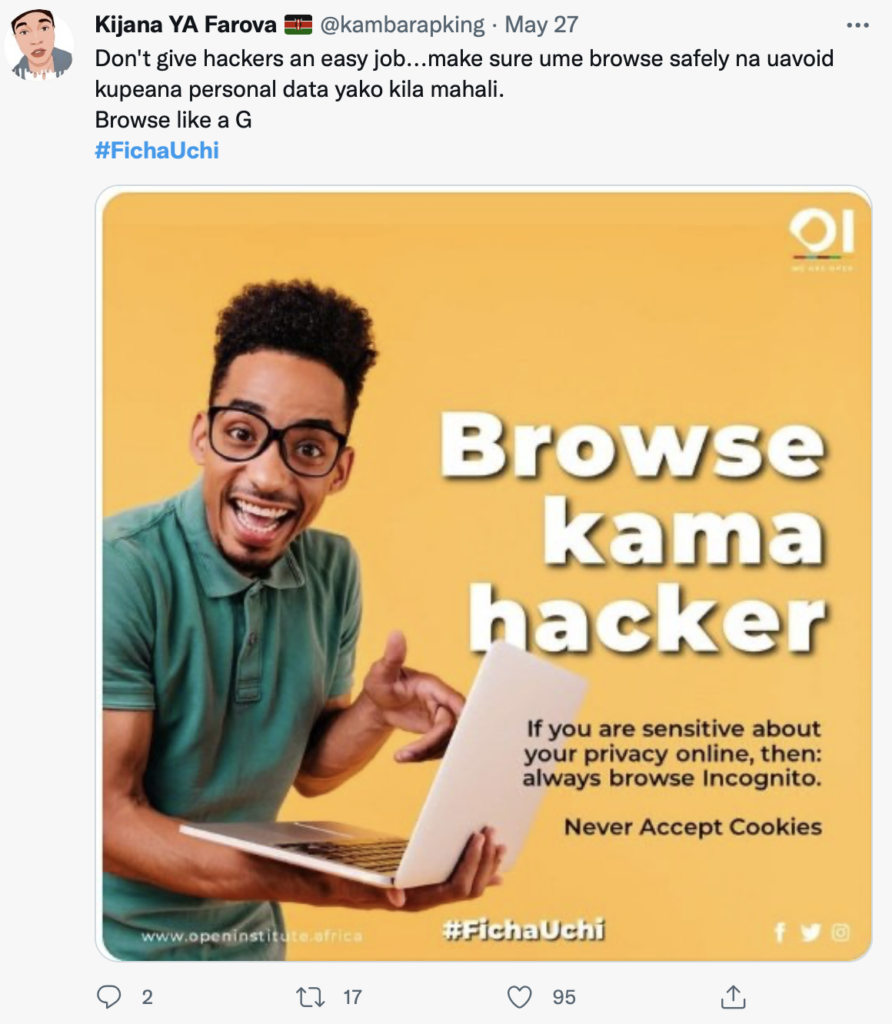 Online interaction during the #FichaUchi campaign
---
The findings of this awareness exercise, particularly in the counties through various engagement activities with citizens on the ground, revealed a widespread lack of awareness on data and its protection.
What was interesting was that most people we engaged with were unable to correctly define the term "data". This is because in Kenya, "data" is a colloquial term referring to mobile internet access, or what we commonly refer to as bundles (referring to internet bundle packages that are offered by most telcom providers locally).
Further, most of the people we spoke to were not aware of existing laws that protect them from data breaches, or even that we had Data Protection custodians in Kenya such as The Office of the Data Protection Commissioner.
Through this campaign, we know now that data protection is a complex topic that needs to be extended beyond social media. We realised that there is a need to complement the digital activities with on-the-ground programmes, since as we conducted our field work we noted that focus group discussions in particular seemed to attract crowds.
The findings of this campaign are instrumental in directing our activities going forward. As we proceed with the data governance project, we are cognisant that citizens in our regions must be made aware of the provisions of the Data Protection Act, and though an uphill task, we all as civil society organisations must do our part to create awareness and drive knowledge creation around this important issue.